Yellowstone National Park
Trip details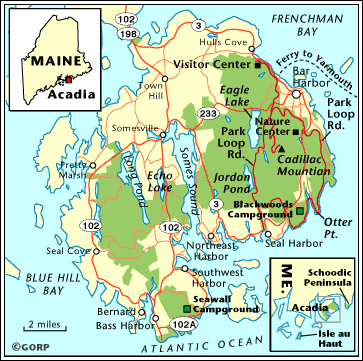 We visiting Acadia National Park in the summer. I think late spring, summer and early fall are the best times for families to visit. We flew from Boston into Hancock County- Bar Harbor airport located about 15 minutes outside of Bar Harbor. Alternatively, Bar Harbor is about 1.5 hours from the closest international airport in Bangor, ME.
If you do fly into Bar Habor airport, there is no need to rent a car. There are regularly scheduled shuttle busses that run into Acadia Natinoal Park from Bar Harbor every day and Bar Habor is a great walking city. We spent 5 days in the area but could have easily spent another week with plenty to do and see.
Bar Harbor is such a family friendly vacation town. There are an abundance of great inns, B&B's and resorts to choose from.
We stayed at the West Street Hotel located on the main harbor road. The staff was friendly and helpful, the room was pretty, super clean and comfortable. We especially appreciated the snack bar open on every floor with free water, tea, hot chocolate and apples. There is no family pool at the hotel but guests have access to the Bar Harbor Club which has a great family friendly waterfront full service pool.
The Bar Harbor Camber of Commerce has a very comprehensive and helpful site with everything you need to know about visiting Bar Harbor and Acadia. Check it out for maps, recommendations, and other helpful links.
Trip Highlights and Recommendations: Stewman's Lobster Pound Downtown - great kids menu, excellent lobster and clam chowder and a perfect location to enjoy a relaxing dinner on the docks. stewmanslobsterpound.com. Dive In Theater with Diver Ed- we had a blast on our Dive In Theater experience. Diver Ed and his wife run the show and they are both wonderfuly smart and joyful. Kids were laughing and learning through the entire experience. Make your reservation when you book your hotel. You do not want to miss it! divered.com Improvacadia- We walked over to the evening family show after dinner one night and I'm so glad we did. A small theater with an interactive show and super funny and talented cast. improvacadia.com
Please reload